IRAN : THE COMPLETE GUIDE TO PLANNING YOUR TRIP (ALMOST)
THE LAND OF BEAUTY, HOSPITALITY AND MISCONCEPTIONS
Going to Iran had always been a dream of mine. It was planted in my head to go there as the haven for hospitality. Throughout my travels especially in Eastern Europe, I met many couchsurfers and hitch-hikers and all of them have only good things to say about Iran.
There is a certain allure to going to Iran. Known as "Persia", it is a name steeped in history and fantasy, lending an air of mystique. It reminds me of the Arabian nights. The stories and connotations associated with Iran gives a mysterious charm to its forgotten lands.
It is also the one place where very little news covered it. Almost all news which covered Iran were negative due to America's influence. The news coming out about Iran in Singapore was similar, or the lack of. It was almost the North Korea of the Middle-East, similarly vilified. Of course there might be more reason to vilify North Korea.
What is so dangerous about Iran? Is Iran full of demons? Terrorists?
Who lives there? Are the people angry old men rebelling all the time? Making bombs? Are the women all hiding under their burqas, suppressed, oppressed and shouting conservatism and traditionalism half the time?
I did not believe most of it. There is news and there is politics. Iran, with all its history and culture, should definitely be a place of beauty.
The people who lived there are most likely like us. Iran is famed as a travel destination for its cultural artifacts and most importantly, its hospitality.
If you read any travel articles or blogs on Iran, they will all talk about the experience of Iranian Hospitality. People will talk to you, say hi to you, invite you unconditionally to their homes, help you out anytime and even pay for your tickets for no reason. The experience of Iranian Hospitality almost becomes an expectation, as though you travel to Iran because you are hoping for some amazing "random" experience. Iranian hospitality is amazing, but don't go around expecting it. It is part of the joy and fun of traveling.
When Thai Airways had a crazy discount for a return flight from Singapore to Tehran, I had to go. I knew I had to go, and alone. When my friends asked me to go together, I said no. I needed a solo trip.
It was a good time to go. Iran was opening up due to less political pressure. It is also not yet flooded by tourists. So if you have a chance, I would encourage you to go! I am also going to put it out here and say that Iran is one of the safest places, if not the safest country for females to travel solo. Maybe with the exception of Singapore. I know I know, some might jump on me and say "You are a guy! What would you know!", so let me explain myself further on in this post.
This post is based on my research before my trip as well as my own experience to give you a rough overview and essentials of what you need to know about Iran for planning your trip.
ITINERARY
How many days should you visit Iran?
As they say, there are never enough days to visit a country.
My recommendation would be 2 weeks or more. 2 weeks is a good amount of time for a basic overview of Iran. It gives you enough time to comfortably cover the main cities without rushing. It also gives you some time to sidetrack and put in smaller cities or off-the-beaten-track places in your itinerary.
However, not many people have that much time or leave.
1 week is pretty common for some. However, if you minus the 2 days of flight time, you actually only have 5 days which is not ideal. The routes in Iran are linear as compared to a circular route. Therefore, unless you take a flight, you often have to account for the time getting there and backtracking. Therefore, most people do not travel to the other cities unless they take flights or have a longer period of time.
Planning your itinerary in Iran is similar to that of Italy. There are a few main cities which everyone goes to where you will spend a few days in each city (cue Rome, Venice, Florence, Pisa), followed by a few other cities and sights which you will include if you have a longer time (Naples, Bologna, Milan, Como etc).
Tip : One thing to note is also that the weekends in Iran are different. Saturday and Sundays are working days while Thursday and Fridays are their weekends. This might affect how crowded places are and when your hosts are free.
The Iranian cities on everyone's lips are
Tier 1 Places :
Tehran : This is the capital, enough said. You will almost fly in and out from this airport. Tehran is the most cosmopolitan of the cities. It is the best place to look at the dark underbelly of Iran (alcohol etc), speak to the youths, see the Anti-USA graffiti, and make trips out for hiking to Damavand and Tochal.
Isfahan/Esfahan : It is a beautiful place with many attractions in its city, such as the central public square and the many beautiful mosques. Its name is "Half the world" in Persian.
Shiraz : Most people visit Nasir ol Molk Mosque, or commonly known as the Pink Mosque in Shiraz. It is one of the most iconic photographed mosque in Iran. Shiraz is something like a nice European old town where all the sights are conveniently located. The city itself is extremely steeped in poetic and cultural history. Shiraz is also the base to visit Persepolis, a must-visit! Oh yeah, it is the birth place of Shiraz wine too!
Yazd : A desert town where the buildings looks like they are made of sand, but in fact of mud and bricks. Most people come here for the desserts (no pun intended) and as a entry point into the desert. The low lying buildings and accessibility to the rooftops of Yazd also make it a place for many people to take pictures and enjoy sunset. Going there feels like going to a place in Asssassin's creed, where you can jump across rooftops.
All these cities can warrant 2-3 days, with the exception of Tehran in my opinion (unless you are going hiking). Tehran has quite a few hiking places surrounding it, like Damavand, Tochal etc. You could also spend make Qazvin/Alamut a day trip from Tehran. I will touch on these later.
There is also Qom and Kashan on the way from Tehran -> Isfahan. Those are very religious cities and could make for interesting stops on the way to Isfahan. This is part of the central Iran route and also the most common.
If you only have a week, take the most common route. It starts from Tehran and travels down south. The route is Tehran (1 day) – Isfahan (2 days) – Shiraz ( 2 days). These are the 3 main cities. If you have time you can include Yazd on the way back. Some people fly back from Shiraz to save time.
Let us classify Tehran, Isfahan, Shiraz and Yazd as the tier 1 places because most people who travel to Iran visit those areas.
However, this means that you have only travelled the central parts of iran. The north-west, north-east and south-east as well as south of Iran is almost untouched by this itinerary. Those belong to the basket of other places. There are a list of other cities which many guiebooks/travel blogs mention because those are still major cities and attractions but less visited, mostly because they are further to the edges of Iran which makes it annoying to backtrack.
Tier 2 places :
If you have more than 1 week, or if you do not wish to take the common route, you can consider visiting these other places. These places are still common
Qom : One of the most religious and holy city in Iran and the main place for religious studies. Famous for the impressive Fatima È Massummeh Shrine. A good few hour trip or a day trip.
Kashan : A good day trip and mid-way stop on the way to Esfahan. Most of the famous sights lie outside Kashan. It serves as the base point for Abyaneh Village as well as Qamsar. Visit there for Rosewater!
Kerman : Most people visit Kerman for the deserts, you can do similar things in Yazd. Further east is the borders to Afghanistan and Pakistan which nobody really goes towards plus there are extra elements of danger.
Mashhad : is another religious city which is worth a visit, if you are willing to take a long journey via bus or flight there. The problem is you almost always have to return to Tehran.
Tabriz : One of the routes I really wished to do was the Tabriz side. There is Tabriz for more hiking (Sabalan & Sahand Mountains etc) and you can make your way to Tehran via Qazvin.
However, for Tabriz, I would suggest combining it with Georgia and Azerbaijan. I initially planned to get to Tabriz from Shiraz and make my way back to Tehran rather than backtracking but my plans changed. It is still a possible route though.
Qazvin : Qazvin is known as the base city for the famous "Alamut Valley and the Castle of Assassins". I told you their names were pretty cool and magical.
Qeshm Island : down south is a famous place for visiting which you might want to consider adding to your itinerary.
Recommended Itinerary
Therefore, if you have 2 weeks, you could do a comfortable trip around Iran like this.
Tehran (1 day), Tochal (1 day), Qazvin (1 day), Qom + Kashan (1 day), Isfahan (3 days), Shiraz (2 days), Yazd (2 days).
That is a total of 11 days. You need 2 days for the flights (which adds to Tehran) and the 1 day for traveling. You could switch out the cities and add Qeshm Island, Tabriz, Mashhad or others, but keep in mind the transportation.
These are the main places in Iran to visit which should cover at least 2 weeks or more. If you have more time, you could explore the other areas, nearer the borders and smaller villages. I went off the beaten track and headed towards Chelgerd for the Zagros mountains as well as east of Kerman.
The downside was that logistics was really a chore and it started to get really expensive. On hindsight, it was not the best way of going about but it served as an interesting experience.
This was the route I took for 2 weeks, not an ideal itinerary though but I would detail more on those places in my other posts.
VISA
Do you need a visa?
Yes, you would most likely need a Visa. The only people who do not need a visa to Iran would be these countries. Republic of Azerbaijan, Bolivia, Turkey, Syria, Lebanon, Georgia, Armenia, Venezuela, Egypt and Malaysia. However, the visa-free days differ, so please take note as you might need to apply for an extension if you are from Malaysia/Venezuela.
Armenia 90 days within 180 days
Azerbaijan 30 days
Bolivia 30 days
Georgia 45 days
Malaysia 15 days
Syria 90 days
Turkey 3 months
Venezuela 15 days
If you are one of them, you are the lucky ones!
Oh, include Israel in that list. You won't need a visa because you will not be able to enter at all.
Important : If you have been to Israel (or any stamp/visa/data proof), or are an Israeli, you are 100% denied entry into Iran. For some Singaporeans, this might be an issue if you have been to Israel and your passport got stamped. Nowdays, you can get your Israel stamp on a separate passport or piece of paper so it will not hinder you going to other countries.
If not, please get a separate passport or a new passport for Iran! I am not sure if going to Jordan affects one as most people travel to Israel and make the entry to Jordan by bus. It is always better to be safe than sorry. So If you have been to Jordan clearly in the passport, you might want to be careful too! Just get a new passport if you have been to Jordan/Israel just to be safe!
Additionally, all tourists, except citizens of Afghanistan, Bangladesh, Canada, Colombia , India , Iraq , Jordan, Pakistan, Somalia, the UK and the US, may stay in Kish Island and Qeshm Island for 14 days or less without obtaining any visa.
How should you apply for a Visa?
There are currently 3 ways of applying for a visa. Electronic Visa, Visa-On-Arrival, Tour agency.
E-Visa
Iran has launched a new electronic visa system. You can apply online here. Not sure if it works because I read somewhere that it doesn't. Also, it was supposedly launched in January, but I went in April and heard nothing about this system. I believe in the future it should work smoothly so keep trying this as it will make things really smooth.
Visa-on-Arrival
Everyone can get a visa on arrival except for nationals of Afghanistan, Bangladesh, Canada, Colombia, India, Iraq, Jordan, Nepal, Pakistan, Somalia, Sri Lanka, UK & US. If you belong to those countries, consider yourself the unlucky batch of tourists. You will need to get a visa before-hand which is the 3rd point.
This is especially so if you are from the USA. The situation with America is always changing, even more so with Trump. So please do a check, one moment you're banned, the next moment you can enter. What doesn't change is the fact that visa will always be an issue for you traveling to Iran.
For those who can obtain the VOA, this is the standard process. From my understanding, it is a 2-3hour process depending on your luck. There are several ways to shorten the process. I will try to detail every step so that you can get it as fast as possible in Singaporean "Kiasu" standards.
What you would need to bring :
Printed copy of your inward and outward flights which basically show how long you will stay in Iran. Don't be lazy and save on the paper, just print a copy of it!
Bookings of the first few nights in Iran. It doesn't matter if you are couchsurfing or really staying there, just get the hotel reservations first to get the visa! I booked a hostel in Tehran for the first 2 days but I cancelled upon getting the Visa (I apologize to the Hostel!).
Money ( USD/Euros to pay for the application).
2 passport size photos (Optional)
A Copy of your passport (Optional)
Itinerary of your trip (Optional)
Only the first 2 is mandatory. The other 3 is good to have as I don't think they are required and I wasn't asked. However, in the case you are asked for them, it will be good to have them.

Step 1 : Overtake everyone on the plane the moment it lands. There are 3 main things you will see, the bank, the health insurance booth and the Visa booth.

Step 2 : Once you enter the main hall, you will most likely see many people queueing up at different queues. Head straight for the health insurance booth!

You might think, hey I already have travel insurance why do I need another.

For Iranian Visa, it is manadatory to have a health insurance which covers Iran. You will have to provide a document from your insurance which shows that it covers Iran.

Therefore, to keep things simple, just pay the USD16 dollars for the health insurance. It covers for 1 month which is usually more than enough.

Step 3 : Head to the Visa application window, it should be on the right of the health insurance booth. There might be a guy shepherding and shouting away.

They will ask if you have a letter of invitation. Say no ask to for a Visa on Arrival for your nationality (Singaporean in this case). He will ask if you have the health insurance already.

Tell him you have all the above documents + health insurance. He might pass you a post-it which states the amount you will need to pay for the visa application. For Singaporeans, it is 85USD.

Step 4 : Take this piece of yellow paper and queue up at the Bank. Yes, the Bank is for payment of the visa application, not for changing money. Pass the surly guy in the bank (especially if it is in the early morning) the piece of yellow paper and money for him to give you the confirmation of payment for the visa application.

Step 5 : Now you have everything. Go to the Visa booth and pass the guy the payment slip, health insurance and your printed itinerary(flight ticket + first 2 nights of accommodation ) as well as your passport. The visa application has 2 pieces of paper, a red and blue copy and he will take 1. Make sure to keep it as that is your proof of verification when you collect your passport! Also, they might call the accommodation to verify so please book a decent one.

Step 6 : Breathe easily and wait. Channel your inner meditation or nirvana. The process could take up to 2 to 3h of your nerves, thinking you might be denied entry. At this point, it all depends on how many people there are waiting for their visas and how many has applied before hand. Priority is given to people with LOI (Letter of Invitation) and authorization codes. For a really detail picture of what it looks like, you can see it in this blog .

The guy was really lucky because there were not many concurrent flights so the process was fast.

Tip : Always be nice and patient. It does not help to blow your top or argue with the visa officer.
Pre-arranged Visa
If you belong to the unlucky batch of tourists, namely : citizens from the US, Canadia, US/American Samoa and U.K./B.O.T, you are not allowed to travel to Iran independently and are required to travel on tours, either as part of a tour group or a tailor made individual tour. You will also need to show the exact itinerary.
So in what cases would you wish to get a pre-arranged visa? You can obtain a visa by contacting any reputable local agency in Iran. They can arrange a Letter of Invitation (LOI) or Authorization code, which speeds up the process of obtaining your visa. If you wish to be safe, get the authorization code. This is basically as good as confirming your visa and it will shorten your process. This is followed by the LOI.
However, there are further charges to it. You might be paying an additional 100+ Euros just for this service, on top of the visa application. This is extremely costly. In my opinion, I would rather wait as it is not guaranteed that getting a LOI/Authorization code reduces your waiting time.
If you are Singaporean, just follow the steps religiously and get the VOA. You could refer to this other blog by a Singaporean if you happen not to believe me.
The only way you will get a pre-arranged visa is if you actually handed your passport over to the embassy/agency and you see it in your passport. If not, assume that any authorization code/LOI is just a priority queue number and that you will still have to follow the above steps and pay for the visa.
For this is insufficient information for you because you are from other countries, you can also view this blog which is quite comprehensive or this, or this
TRANSPORT
To get around the cities, there are the options of trains, bus, taxis or private transport. It depends on whether you are traveling intercity or within the city.
Buses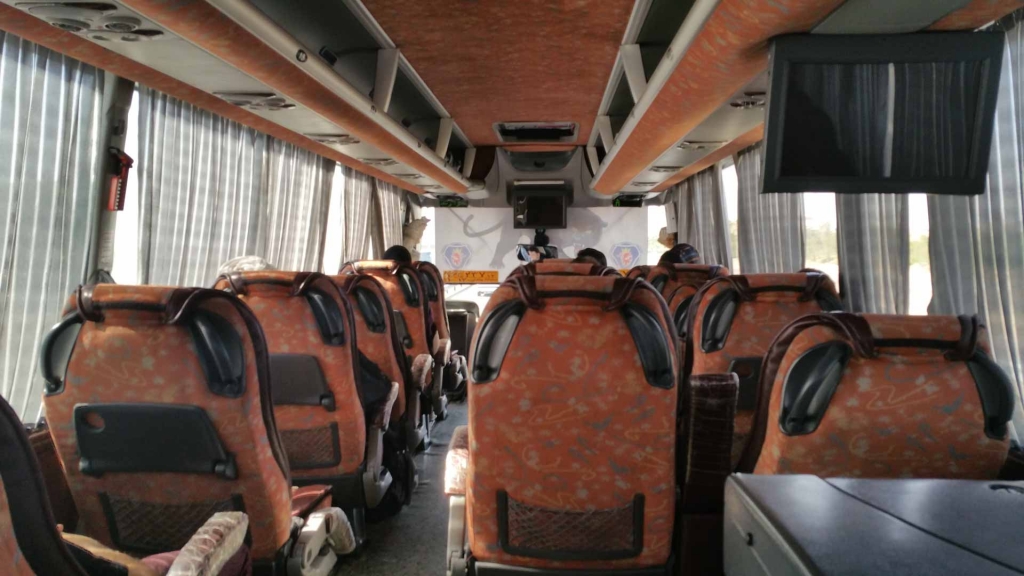 Buses would be the most recommended option to travel around Iran. It is often the cheapest mode of transport. The buses are also really comfortable. They are unlike all the other countries which I have visited, where buses are cheap but really crammed and slow. Most of the buses between cities are air-conditioned. More often than not, the buses are spacious and comfortable.
There are 2 types of buses, normal and VIP. The VIP buses are really a marvel of a bus. They offer free drinks + food, leather and low reclining seats for sleeping and are configured to have individual seats on one side which are perfect for solo travellers who want some peace. The VIP buses are slightly more expensive, but still extremely affordable. I would suggest taking the VIP buses almost everytime unless you are really tight on the budget (a few USD difference) or there are only normal buses on the route.
The general cost of buses (VIP) range from 5 USD to 15 USD, depending on the distance and journey. For normal buses just half that.
You can book them online but the website is all in Farsi and they only accept certain credit cards ( local ones generally).
The booking sites are www.payaneh.ir or www.safar724.com. These are basically the different bus companies. For more detailed information on the buses, you can read up on it here as well as here. Those 2 have pretty good information on buses.
This also leads to a market where there are many websites offering to help you book your bus tickets. They are honestly just a group of Iranians booking it for you. You could do it, but I would suggest to just go there and get the tickets on the spot.
Alternatively, you could ask a local host/friend to help you book your buses when you are there. Sometimes, booking online is cheaper as there are discounts. Also, it guarantees your seats for certain popular routes!
Here are the cost of buses and estimated journey timings from my experience. For shorter routes, they usually have it every hour. For longer routes such as Tehran – Yazd etc, there are VIP buses around 4 times a day. There are also normal buses which are cheaper and more often.
The bus journey timings differ greatly for longer distances. This is because the drivers sometimes stop for more and longer breaks, or there is a higher chance of a police stop and inspection for drugs. This happened to be on my Yazd – Tehran journey where I read it takes 7h but mine took 10h instead.
| | | | |
| --- | --- | --- | --- |
| From | To | Rials | Estimate Journey |
| Tehran | Qom | 100,000 | 2.5h |
| Qom | Kashan | 150,000 | 1.5h |
| Kashan | Esfahan | 165,000 | 2.5h |
| Tehran | Esfahan | 330,000 | 7h |
| Esfahan | Shiraz | 250,000 | 6h |
| Esfahan | Yazd | 120,000 | 5h |
| Shiraz | Yazd | 360,000 | 7h |
| Yazd | Tehran | 390,000 | 9h |
| Shiraz | Kerman | 320,000 | 8h |
City Bus
There are city buses you can take within the city to get around. The numbers are all in Persian so it would be good to know as they all have distinct routes to travel. Once you can identify which bus to take and know where they go, it becomes quite easy. Ask locals for help if there are any issues. The only downside is the buses are usually crowded so if you have a luggage/backpack, it can be quite inconvenient.
Mini-Bus
You will only encounter taking the mini-bus when you are going off-track to the smaller villages or cities. The prices are still extremely cheap. In this case, I hitched a ride as they dropped me off in the middle of nowhere and refuse to accept any money.
Trains
Trains are the second option as they are as common as buses and available in almost every city. For more information, you can refer to this website for everything concerning Iranian Rail. A good website to refer to is also caravanistan.
Trains cost a similar amount as buses, they range from 5 USD to 15 USD.
The official website for the rail is: Raja Rail where you can book your train tickets. There are first class seats and normal seats.
I have never tried the first class seats before. From my experience, the trains are like the European trains, with a very small aisle and many cabins. So 6 people will squeeze into 1 cabin. It is good if you are travelling in a group of 6. The train will be crowded and if you have big luggage or even a backpack, it can be quite a hassle.
I assume the first class seats will be more spacious but way more expensive.
If you have very little luggage and you happen to be travelling alone, a train might be a good experience to mingle with the locals.
For me, the trains were suitable only at places where the train station was closer to where I needed to go as compared to the bus station. Some places, the train station is within walking distance from the city, for others, they could be a few km away which requires you to take a shared taxi or a bus in.
Flights
Internal flights are reasonably cheap and frequent, so they should be considered if you are really short of time.
For example, if you are thinking of going to Mashhad or Tabriz from Shiraz. Usually prices are around 30-60 USD in comparison to buses/trains which are around 10-15 USD.
Taxis
This is the main form of transport within the cities or at places where there are no buses. The taxis are basically split into shared taxis and private taxis.
Shared Taxis/Savaris/ Na Dar Baste!
To get from town to town, most locals share the taxis, also known as Savari. This way, the cost is split by 4 people. Often, the taxi will wait until it is full before setting off, unless you are willing to pay for the whole taxi. A good phrase to know is Nar Da Bast, which means "no closed door". Da Bast means booking the whole taxi, and you will often hear the driver prodding you with this question. Just say No Dar Baste and you will wait until its full.
Tip : Sometimes, the taxi drivers will put on a show. They might ask you to get in and drive around despite being empty. Do not panic, they are trying to look for customers and they will drive and end up at the same spot after awhile before asking you for Dar Baste. If you have time, just hold your ground, if not, you could negotiate further for a Dar Baste.
Private Taxis/Dar Baste!
In that case, it is akin to a private taxi. The cost is high but sometimes you have no choice. Remember to bargain hard because it also means that there are nobody else taking the taxi.
Usually, when you reach the bus/train station and you have to travel to the hostel or your accommodation, you will need to take a taxi. Taxis are also usually used for going to the day-trips off the cities, for example Abyaneh village off Kashan, or to the Kalut Deserts. They can be quite expensive so take note of the places that you are going to which require taxis.
Here are a few tips to help you with negotiation.
Never take the taxi immediately at the train/bus station. Those are the most expensive. Always walk out slightly further and you will get a cheaper rate.
Always try to negotiate for 50% off the given price quoted. It will be good to check out how much others pay for the same route online first so that you have something in mind before negotiating.
For the tourist attractions, like Persepolis/Abyaneh/Kalut Deserts etc, look to share it with other tourists. You are going the same way and the cost is divided by 4. It makes a huge difference. Suddenly a 20 dollar taxi ride becomes only 5 dollars.
If looking to get a shared taxi from town to town, try to get into 1 with a customer already. This will mean that it will be faster to fill up and you are definitely sharing the vehicle.
Accumulate small notes! When paying, always try to give exact change. If you give more, they might say they have no change which might be true, or ask for a higher fee. It just weakens your negotiation if you have negotiated to 50,000 rials from 100,000 rials, only to give 100,000 rials in the end.
Lastly, Iran has their own version of Uber/Grab, which I believe is only available in Tehran and Esfahan. There is 1 App called Snapp and a few others like Top30. This is actually the cheapest way to take the taxi in Tehran, without having to negotiate. It is also the cheapest way to and from the Airport in Tehran. A typical journey from Tehran airport to the city might set you back 20 USD, but taking Snapp will only cost 10 USD, it is half priced! Unfortunately, I believe it is in Farsi so you might need to ask a local to help you with that, like the first host you are staying with when you arrive in Tehran.
*Update, I heard Snapp is in English now, so download it and use it in Tehran! You can read more on taxis via these 2 websites, here and here. They are pretty reasonable in their content.
Metro
There is an extensive metro system only in Tehran. You can get about most places by the Metro in Tehran and it is really easy. Just buy a metro card and you can use it for a long time! I bought a card for 50,000 IRR and never needed to top up. They are really clean and advanced. It can get really crowded during peak hours such that you will struggle to get in. For ladies, there are lady only carriages which means more breathing room.
For more on transport, you can always refer to Lonely Planet which gives a general overview of it.
COUCHSURFING
Couchsurfing is illegal in Iran. However, there is quite a strong community of couchsurfers, especially in the major cities. The only thing you would need to beware is of people selling their services on CS. That sounds dodgy, but by services I mean like offering to guide you for XX amount of dollars, picking you up from the airport for 30 USD, getting a transport for you etc. Some of them might host you for free but have extra tour services along, it is a delicate balance.
For them, it is an avenue or extra opportunity to earn money. Make sure to ask before hand as they could offer a lot and request money after that. Please check the references as well as check with them especially if they are new requests. If you put an open trip, you are bound to receive many requests, especially if you are a girl.
As couchsurfing is illegal in Iran, you will need to download a VPN to access it. This will be covered in Apps.
Despite all that, couchsurfing is really a great way to get to meet locals and interact with them. If you were to stay in hostels, you would be meeting only other travelers all the time. If you get a good host or even meet up with couchsurfers, I guarantee that you will have an amazing experience because of how friendly, helpful and hospitable these people are naturally.
WHEN TO GO
The best time for me is Spring or Autumn, which is mid April onwards, or September and October.
There are 2 main events in Iran which you need to take note.
Nowruz
Some people love to visit during Nowruz, which is the Persian New Year. The prices and the crowds are the highest then and it gets really busy in certain cities. Some of the shops might be closed also because everyone is out. Transportation and bookings get really tough, however it might be the best time to celebrate with the locals. Nowruz starts from around 20th March to 3rd April.
Ramadan
Ramandan, is the fasting month observed by Muslims. The Ramandan dates changes every year, something like the Lunar New Year. It usually starts in the end of May/beginning of June and last for 1 month. It will be good to check the dates before you travel because fasting will affect the timing people eat, the food that is available outside as well as the shops which are open.
Seasons
Iran has seasons. So deciding when to go is often dependent on which season you prefer.
Winter is often discouraged unless you really wish to avoid crowds, want to have a really cheap trip, love the cold and skiing. Winter is usually from Nov-Feb, which is classified as the low season.
Summer, which is from June – August, will result in scorching hot weather. The sun will beating mercilessly on you. Temperatures could go all the way up to 40 degrees!
That leaves Spring and Autumn which are the best seasons to go.
Spring is usually from March – May, which is known as the high season. It has reasonably good weather, mild temperature and flowers! However, it often coincides with Nowruz and Ramadan.
September and October are also great months to visit. If visiting the mountains, this could be the best time.
The best time for me to go is after Nowruz in April, or in September and October.
In April, the high season has not started yet so the prices are still quite suppressed and it is not crowded yet. It is also still quite cooling (20+ degrees) most of the time. When I was there in April, there were some already some days which was hot which made me thank my lucky stars I did not go in summer. In April, you will get to see many spring blossoms and flowers too!
One unfortunate thing for April is that the mountains still have snow, so it is not the best time to do any mountain trekking.
APPS
VPN
You will need VPN apps to access certain apps, like cCouchsurfing, Facebook, Youtube. VPN will be your best friend. The funny thing is Instagram and Google isn't banned. I don't think you need to pay for VPN, so just download a few VPN apps.
You will need a few free VPN apps because sometimes one of them don't work. I have used these 3 on my trip. TurboVPN, SuperVPN and SuperVPNclient. Personally, I prefer SuperVPN the best.
Important : Remember to download them before you go! You won't be able to download these apps in Iran as google playstore requires a VPN too!
TELEGRAM
Telegram is the whatsapp/wechat for Iran. Everyone there uses telegram and instagram. They will often ask you for your instagram or telegram account. If you wish to interact with the locals, having these 2 apps will be good. Telegram is a pretty awesome chat app which you can use anyway. You can download telegram here.
Those are the 2 core apps you need. You can download Snapp for Taxis but I can't seem to find it on google playstore. Also, Google Translate with an offline dictionary for Farsi is really useful!
SimCards
You can get the simcards immediately upon exiting after the luggage. There will be a few shops selling simcards on the same floor, while the money exchange is the floor above. For Sim-cards, I used Irancell because it was right in front of me. It served me well most of the time even when I traveled out to the mountain areas and has 4G. I spent 5 USD on it.
The 2 best providers are supposedly Irancell and Hamrah-e-Aval. You can read more in detail on the various plans compiled here. If you are there for 1 -2 weeks, the plans cost are not much different. Just take a sim card from either of the top 2 providers. If you run out, you can easily top up in the city or in shops.
You will need to show them your passport ID. Also, it takes a few hours to activate your data. Just remember that because it might disrupt your ability to contact your host on the first day.
CULTURE
Most people there speak Farsi, and some speak English. Usually the city folk or the younger and more educated ones speak better English. Don't worry, you can easily get around with hand signs, a smile, or google translate.
I believe I have repeated many times on Iranian hospitality and how friendly they are.
The main reason is in the Persian concept of treating guests better than themselves. The Chinese have a similar concept, but the Persian one takes it to a whole new level.
One important aspect you need to understand is the Persian idea of etiquette.
Tarof
Tarof is akin to the Chinese concept of politeness and humbleness. In the Chinese context, we often offer something out of courtesy but it is in good form to reject such offers. Tarof works in a similar fashion.
Often people will offer things to you in Iran, out of courtesy. They will offer to you to join them for a meal at home, offer to host you, offer to pay for your bus/train tickets. They will offer to get more food, or ask if you wish to have a second or third serving of rice.
This can sometimes come at the expense of themselves. For example, even if the Family is really busy, all of them working and they have no time, they will still offer to host you. Even if they are really poor, they will make sure their guest get second helpings etc.
The idea here is to reject the offer with a smile, as it is offered out of politeness. It is an unspoken rule or form of etiquette to do so. They will offer usually 2-3 times so reject them politely.
Just imagine if you are buying something from the market and the seller were to offer you for free, you immediately accept and you notice a slight change in their facial expressions. Their brows narrow, their lips shudder and their smile vanish. It is considered rude to do so and they might look a bit shocked if it is just Tarof. I can imagine that they might still be smiling but inside their heads they might be cursing.
Of course, some of them are really genuine offers but it is always good practice to reject at least twice before accepting on the 3rd time. That is the safest rule.
For some, it might be hard to understand this. The concept here is that words are not meant to be taken literally, but there is an extra depth and meaning to the words and smile. The concept is allowing the host, no matter how poor or what situation they are in, to be able to have the honor of treating their guest well, by giving them the chance to make the offer.
That is hospitality at its core.
He invited me over to stay at his place
I have had people who paid for my taxi rides without saying a word, bus tickets etc. It is always a struggle to reject these people. Until now, even though I can understand Tarof, I don't get why they will want to pay for my tickets. It is just crazy and also amazing to think of how these people, without caring about how rich/poor you are, how much more money they could save for themselves, would rather pay for example 3 USD just to welcome you to Iran or to make someone's day.
So remember the rule! Reject those that seem to have gone too much out of their way to help, and go with the flow for those who really insist, you often get good experiences and a taste of Iranian hospitality.
You can read more on Tarof on Wikipedia or here or BBC or here.
Talking to Women
This is just from my own experience.
Having read up on Iran, you would have also heard the general stereotypes about the women there. On an extreme basis, the Iranian women are black-cloaked, extremely traditional and very repressed.
It also seems there is a social etiquette on how males should interact with females. There are restaurant and places where there are separate areas set aside for women and families. Supposedly on buses, women are supposed to sit at the back with other women or use the middle entrance to enter the bus.
I was slightly sensitive on how a guy should talk to women. I did not want to offend another culture or in worse case, get into trouble with the law.
As a male solo backpacker, I often felt uncomfortable approaching women directly to talk to them, especially if I did not know them. Maybe this is due to me being shy, but it does feel like it is impolite to do so. Usually when you say hi, sometimes you shake hands, but I've read that you are not supposed to initiate shaking hands with a female Iranian. Somehow, I feel it was different if i was white (because clearly a tourist?).
I have noticed that most Iranian women seem to only travel with other guys in the family, such as their fathers, brothers or husbands. When alone, they are usually quiet and keep to themselves. Also on buses, the women generally sit together, not that it is a surprise because it is more comfortable.
If I was talking to a family, it feels as though I should talk to the guy first. The ladies or the girls usually defer the conversation to the guy, or look away. I also notice that it was harder for me to form conversations with random girls as they will usually shy away, not that I do that often in the first place.
I also notice that as a solo male traveler, girls or families and kids do not approach to talk to me. Only guys do. Seriously, only guys talk to me on my whole trip, with the exception of some major and more liberal cities like Tehran and Shiraz. It got to me after awhile because guys sometimes have very boring conversation topics, especially with limited English. It got to a point where they kept asking me if I was gay and if I wanted sex. Apparently in Iran there is a "gay joke" seeing how gays are not supposed to exist in Iran.
It is very interesting because I compared my experiences with my female friends in Iran as well as other travelers. In fact, there were very few solo backpackers which I saw during my trip. I met so many couples on the trips and I notice the difference because they have a wide variety of people talking to them. I heard so many stories about how a little girl talks to them and wishes to converse English with them, leading to an amazing home experience. Never happened to me.
I figured out that all things constant, the difference was because the others have a girl in the group. So as long as you are a girl, or part of a group with a girl, the kids, the families, the ladies might all approach and talk to you. Oh, and the kids love tourists and are generally curious!
Either that, or I am really just an unpleasant and horrid looking guy that families/kids/girls love to shun.
Nosejobs/Beauty
Many people in Iran get nosejobs. In fact, Iran is known as the nose job capital of the world as it has the highest rate of nosejobs in the world I believe.
It is a really interesting phenomenon because they all already have beautiful noses, but they still wish to go for a nose job. I believe it is often to reduce the size of their noses as they feel it is too big. It is akin to Asian people wanting to be more white and white people wanting to be more tanned.
You will often see ladies and even guys with a plaster on their nose, way after the plaster needs to be on their faces. It is a remnant of the reminder of the nose job, as a well as a symbol of status and perhaps beauty. Go google Iranian nose jobs plaster.
Here are some interesting articles on nose jobs in Iran by Guardian, Vice, and LAtimes. Note that these articles are all from Western media, but it does give you an insight into this phenomenon. It is a good conversation topic and an interesting discussion to have in Iran.
Iranian people are also very beautiful. The ladies also put an emphasis on make-up I've noticed. Their style is very similar to the Turkish. The guys are also always well dressed, with extremely impeccable hair.
Dress Code
After revolution of 1979, it is mandated by law that all women in Iran, including foreigners must cover their hair, also known as Hejab and wear loose-fitting clothes to disguise their figures.
This only applies in public, so most women take out their hejabs at home, unless in the presence of a stranger.
By right, the Hejab is supposed to cover all the hair and it is a tight fit on the head, which makes it really stuffy and uncomfortable. Not that I have tried it, but many girls have complained about it.
In general, the dress code is pretty relaxed in the sense you just need to have a piece of cloth covering your hair loosely. Most young people don't really care about the Hejab and hate it. In fact, the Hejab has become a fashion accessory, part of a fashion style. The young girls are also usually quite trendy with tight fitting and colorful eye-catching clothes. This is seen more so in Tehran and Shiraz.
In some of the more religious cities or shrines, you have to be stricter with the hejab. Some shrines and mosque will show the officially acceptable versions of hejab, or the chador which is the full suit of black, where the all encompassing garment covers from head-to-toe with only the eyes visible. These sights might require you to wear the Chador which you can borrow on sight.
Also, there is a "tourist leeway" for this aspect. Foreigners are usually not judged as harshly as Iranian women when it comes to hejab. Most will not care if you have your fringe or a bit of neck or hair showing, at most it does illicit some quick glances if you are in the conservative areas like Qom.
I am not a female so I shall not attempt to talk more on the various dress code for women. You can read more on it here, or from these female blogger here and here or lonely planet.
As for guys, there are no real restrictions luckily for us except common sense and basic respect. So try to be covered like Jeans/Long pants most of the time.
Tip : Just know how religious or conservative the area you are going to. The villages, Qom, Yazd, Kashan and Mashhad are usually more conservative, but not so much so in Tehran, Shiraz, Esfahan.
SAFETY
Now, Iran was pretty much the safest country I felt when I traveled around. For me personally, it was the safest. I did not feel scared when I was walking the streets, I did not feel like someone was going to pick-pocket or rob me. In fact, it almost felt like I was in Singapore. This is in contrast with many cities which people feel safe in general such as USA or Europe, but I am actually more guarded in those cities.
The streets were well-lit in general. I was walking around Tehran and Shiraz in the early mornings (like 1-2am) and still felt really safe.
The people were really friendly and helpful, almost to the point for "annoying" for a solo backpacker like me because sometimes you are tired of talking and just want peace. You might be taken aback at how random strangers come up to you and ask you how's your day or passer-bys going "Welcome to Iran".
At transport areas, most locals will try to help you if they can once they see you look a bit lost. Don't be afraid if someone comes up to you suddenly to ask you question, most of the time they are just being friendly rather than trying to scam you. You will also get many request from the locals asking to take a picture with you.
One funny story is when I was getting to Chelgerd which is considered the countryside or the mountain areas. I usually feel safe when traveling out to the mountains because people are more chill and easy-going. However, throughout my journey there, all the locals kept warning me to be safe and that there are bad people around. It was a recurring theme throughout my bus rides, home stays in the mountain cities/villages. It was quite interesting, I guess there is some sort of discrimination between certain groups of people in Iran.
I did take most of what they said with a pinch of salt, but having heard it quite a few times I started to be a bit more careful with my cameras.
Although I believe Iran is really safe, you will still have to keep your wits and guard around you at times and take the necessary safety precautions. The rules are always different for a male solo traveler and a female solo traveler.
This safety aspect does not necessarily apply to hitch-hikers as well as going to the border areas, as hitch-hiking is a different culture by itself and border areas have a different sort of climate, people transiting and danger.
Speaking to some locals, I've found out that the law in Iran is quite strict which acts as a deterrence for such crimes. I believe it is more specific to crimes against stealing, robbing and violence. Although the laws are set, because of the power owned by the government/scholars, there are certain types of crimes which are punished extremely strictly. There is also still capital punishment in Iran. You can read more on it on Wikipedia on the categories of the crimes.
There are also female-only carriages on the metro stations in Tehran and female-only taxis in certain areas.
Please note that there are also cultural differences in Iran when dealing with a guy.
Some Iranians, being influenced by foreign media and movies might see Western women as 'easy' and immoral and will try their luck.
It might be common for a guy and girl to hang out or a girl to initiate conversation, smile and talk to a male stranger easily. However, it might be construed as an open invitation for something further. Therefore, just be polite and careful, keep these in mind and not be overly friendly in your dealings with local males. Also, as a female it is easier to talk to other females for directions. The younger ladies also mostly know how to speak English in the main cities.
These are also some relevant tips from Lonely Planet.
On intercity buses you can sit in any part of the bus, but you should always try to sit next to a woman (it's OK to sit next to a Western male you are travelling with).
Don't shake hands with Iranian men unless they initiate this. Instead, place your hand over your heart as a greeting.
If you are by yourself or even with another female, don't accept an invitation into a man's house unless at least one of his female relatives will also be present.
Having said all that, I still maintain that it is really safe for females to travel alone in Iran, if not the safest place for females. It is safe along the main routes because there are a lot of people and tourist and locals are both respectful and hospitable. They do not harass or be too aggressive, do not stare as much and generally do not have bad intentions. If you don't trust me, go check out what other females solo travelers say on Iran. You can read it from this lady here, or here, or here.
So use Iran as the place to travel solo as a female! I believe it will be an amazing experience.
MONEY MATTERS
There are 2 main things to note for money in Iran.
The first and most important thing to know is ATMs to draw foreign currency do not work in Iran. Therefore, you will need to carry all the money you need with you on your trip. This means that a good estimation or calculation of expenses is required which will be covered later.
The 2 best currencies to bring would be USD or Euros. I personally prefer USD.
The rates to change to Iranian Rials (their local currency) there are pretty much fixed and the best place to change would be at the airport. It has so far given me the best exchange rate and you wouldn't need to be scared of being conned. After going through immigration and luggage, go to level 2 and change all the necessary money there. You 99% wouldn't get a better rate in the city.
My advice is that if you have used more than you changed at the airport, you could change with any locals or host that you stay with. This is good because some of them need USD when they travel out and they are not looking to make money out of you, so it becomes a win-win situation. It is also extremely convenient for them to withdraw rials from the ATM.
The second thing to note is the terms used. You will often read and hear about "Tomans" and "Rials". The official currency is "Rials", or RS. However, the locals use "Tomans" a lot. "Tomans" is basically 10x Rials. So 10,000 rials is 1,000 tomans. Right now, 1 USD is ~= 33,000 rials, which is 3000 tomans.
Now this is the part which gets confusing. In Iran, when talking to the locals, because the currency is quite big, they often forgo the thousands in their speech.
For example, instead of saying 3000 Tomans, they will just say 3 Tomans. So, 3 tomans is basically understood to be 3000 tomans which is 33000 rials which is around 1 USD. Mindblown.
Sometimes, they will just use their fingers to sign if they don't really speak English. So if they raise up 3 fingers, it will mean 3 Tomans aka 3000 Tomans, not 3000 rials.
You will get used to it after awhile.
Tip : I often just whip out my phone and use my calculator app to negotiate the prices. I spend some time clarifying whether it is Tomans or Rials. It is important to clarify, because you might think it is 30,000 rials, but it is actually 30,000 tomans which is 300,000 rials! Now that just changed from 1 USD to 10 USD! Therefore, I often just use Rials as it is the base denomination.
EXPENSES
Now we address the elephant in the room. How much do you need for an Iran Trip?
Attractions
Most of the attractions in Iran cost money. It can get quite expensive to the budget traveler as they have a tourist price. For every mosque, tomb, bathehouse you visit, they most likely cost money. You will most likely need to pick and choose the sights to enter. Most of the main attractions cost 200,000 IRR (6USD) for foreigners. It will start to add up, especially in Shiraz and Esfahan.
To me, not all sights are worth visiting, especially those in Kashan for that price. I did not really like to pay that much for the numerous gardens or museums.
You might also get tired of seeing too many mosque, similar to visiting churches in Europe. On the other hand, the mosques and palaces in Iran r have really amazing architecture and you can spend hours admiring the mosaic tiles, details and thoughts which leads to its creation.
Tip : For some sites or mosque which are free for locals but charges tourists, if you look slightly Iranian, just strut in as if you are a local and you might avoid paying the attraction charges.
I have a list of notable attractions and their prices which you will most likely look at visiting. It will be useful for you to estimate the cost needed. Note that the attraction prices change from time to time, but the general rule for these few years seem to be 200,000 IRR for foreigners.
*Included are my personal remarks if you ask me because I think the gardens in many other countries are nicer, but feel free to read tripadvisor on what others have to say.
[table id=2 /]
FLIGHTS
My return flight from Singapore – Tehran was only 360 SGD. I flew to Tehran via BKK on Thai Airways, a full service flight. It was a crazy deal as it was pretty much a direct trip because the transit time in BKK was only 1 hour! 360 SGD for an 11 hour flight is crazy!
I also noticed that Thai Airways have some crazy deals for other places too. Do keep an eye out for Thai Airways for your other trips!
The cheapest way to fly from Asia will be to go from Kuala Lumpur (KL) in Malaysia or Bangkok (BKK) in Thailand. Airasia, and Thai Airways are the 2 main airlines to fly to Iran from Asia. To save cost, you might consider taking a LCC ( Low cost carrier/budget airline) to those cities from Singapore before flying to Iran. Alternatively, Doha and Istanbul are other transit points to fly into Iran.
From a rough check, an average price of a flight to Iran using Airasia or Thai Airways from Singapore is around 700-800 SGD. By comparison, Emirates is around 1.2k – 1.5k.
Meeting other travellers in Iran, I met some who flew from Europe/Russia on similarly cheap deals! You can get to Iran on around 300 USD! Return flight! Just got to find the right flights.
So, I believe you just need to keep your eyes peeled for the flight deals!
TRANSPORT :
There are basically 3 costs to transport. Intercity transport ( easily calculated), day trips/ transport to attractions (easy to estimate) and transport within the city (not so easy).
Intercity Transport
If you were to take buses or trains, it will be quite easy to calculate. Here is a formula for you, just choose the number of cities you are visiting, take that number +1 (the final return journey back to Tehran) and X 10 USD. That is your estimated budget which is more than enough for the inter-city transport.
For example, if you wish to visit Tehran- Kashan – Esfahan – Shiraz – Yazd, your budget for the intercity transport is simply (4+1) X 10 USD = 50 USD. This should more than cover it.
Day Trips/Transport To Attractions
This does not mean transport to a place within the city. It is for day trips out of the city, for example going out of Yazd to visit the Tower of Silence, or Persepolis off Shiraz, or Abyaneh Village off Kashan. If you are making day trips out to those places and back, factor in at least 20 USD per sight.
Within city transport
This will be harder to estimate because it all depends on where you stay and how much you negotiate.
If taking city buses, simply just add 2 USD per day.
Based on your itinerary, if the accommodation you stay is further from the train/bus station and you need to take a taxi, estimate around 6 USD for a return trip.
Accommodation
A standard night in the hostel is 15 USD. A room can be around 30 USD – 50 USD. So if you are backpacking solo, 15 USD per night is a safe estimate assuming you are in the main cities.
If you are in the smaller cities, it can be quite expensive as there are almost no hostels and usually only hotels. Some areas ted to have more guesthouses, for example Yazd as compared to Kerman or Shiraz.
It can also get really hot in summer and in the accommodation so take note of there is air-condition if you are traveling in the hot season!
Of course, you can always shave off your accommodation expenses by couchsurfing.
Tip : You could try staying with locals/trying to find guesthouse. In Iran, most houses have a guest-room. So you can try your luck by asking if you can stay over in someone's house for a cheaper fee. This works especially in places without hostels/villages. Of course, keep your senses around you and ask wisely.
Food
Food is relatively inexpensive compared to US and European standards. For Asian standards, food prices by comparison are slightly steeper.
The interesting thing about Iran is people often rave about the food. However, most of the time on the streets on a budget, you will find many fast-food places selling bread, kebabs, burgers, spring chicken. Those will cost from 1 USD – 5 USD.
Most Iranians eat at home or with their family, that is where the best food is!
If eating at low-budget restaurant or cafe, they will cost around 5 USD to 10 USD. A good restaurant will cost around 20-30 USD per person.
Estimated Total Expenses
7 day trip, excluding flights, bringing 200 -400 USD is usually more than sufficient if you are backpacking.
14 day trip, bringing 400-600 USD is sufficient.
For a 2 week Iran trip, most people spend around 1,000 USD all inclusive (flights etc). As my flights were 360 SGD and I spent more money travelling solo and transport into the mountains, my expenses were around 1,000 SGD in total for 14 days inclusive of flights. That is around 750 USD.
You should factor in more if you are splurging on food or attractions.
Your cost decreases if you are traveling with people because you can share rooms and transportation. Travelling solo is only cheap if you manage to couchsurf all the way, hitch-hike and share transportation cost with others.
Conclusion
Iran is a really beautiful place and everyone should visit for its culture, history, its vast variety of sights on top of having the travelling experience enhanced and made memorable by the people living there.
It is a relatively inexpensive place till you start binge paying for the attractions and if you end off detouring off the common route. Suitable for both solo travelers as well as group travelers, Iran offers both majestic monuments and the romance of the history to woo you. It is also a good time to visit Iran as there are still not many tourists there, mainly the Europeans.
So if you are looking for a place to immerse yourself into the local culture, this is the place for you.
For more information on each city, I will post on my experience in the individual cities in other posts.
I hope this is helpful for everybody!
---
Other links :