Leh : What to do in and around Leh
Leh (3524m) is the capital and the entry point into the Ladakh region for Stok Kangri (one of the most accessible 6,000m peaks), Markha Valley or any of the Indian Himalayan peaks. Leh is situated in between the three parallel ranges of the Himalayas, the Zanskar, the Ladakh and the Karakoram as well as the 3 rivers, the Shyok, the Indus and the Zanskar Rivers which flow between these ranges. Littered with fluttering Tibetian flags, surrounded by dramatic and unforgettable landscapes, Leh is an amazing place to visit.
Getting in
Road-Trips
Leh is connected by road via the National Highway 1 to Srinagar or via the Leh-Manali highway to Manali in the south. Both routes are spectacular in their own ways, with hair-raising roads, military checkpoints, hilarious road signs and dramatic scenery. This results in them being known as famous or epic road trips one must take in their lifetime.
The road from Srinagar covers a distance of around 430km. It is at a lower altitude and is less susceptible to weather problems. It takes around 2-3 days to cover the route. he Srinagar–Leh road is open from the first week of May till December, depending on snowfall. The roads are well maintained, the ascent is gradual—chances of mountain sickness considerably reduce—and there are beautiful villages on the way.
The route from Manali to Leh is slightly longer and covers around 470km. This is a more common route and is known as one of the most epic road trips available in the world. It requires around 2 days and traverses one of the highest road passes in the world. It is susceptible to rainfall and is closed during winter. For more information on it, read my post on the Leh-Manali road trip which I took. This high-altitude road is snowed under for most part of the year. It opens around the first week of June and remains motorable till October. The climb here is steep, the roads crumbly, and landslides are a real threat.
By Air
The fastest way of getting to Leh is by plane, but it is also the easiest way of getting altitude sickness. If you are flying from overseas, you will most likely be coming in from Delhi. The plane from Delhi to Leh is notorious for delays, so don't be surprised if you end up waiting at Delhi airport for a few hours.
If you are coming by air, do take an extra day in Leh to acclimatize.
Things to note
Floods
The roads in the Ladakh region are basically mountain roads. They run a serious risk of landslides, mudslides or floods. In fact, when I was there in 2010, nobody could move from Leh for a week because of serious floods. If there is heavy rain over many days, there is a high possibility of there not being any transport. If there is, be careful on the roads and make sure that driver is experienced and does not speed. There are many accidents on the road in Ladakh due to crazy drivers or drunk youngsters thrill seeking in this region.
Taxis
The taxis prices in Leh are pretty much controlled by the Leh Taxi union. Although you can book your transport through your accommodation or through the numerous travel agents in Leh, the charges are pretty much similar if you know the prices. In the Leh main market, there is a main taxi stand where they show the prices and solo travellers can try to get together to get shared taxis to destinations.
A good detailed post on the taxi rates are on : http://devilonwheels.com/leh-ladakh-taxi-rates-2017-18/. As a form of reference, here is the taxi rates from the official website of Leh but they are for 2016-2017: http://leh.nic.in/pages/Taxi-list.pdf
The prices change every year, so please refer to the list found on devilonwheels. The prices are based on destination and type of vehicle you are traveling in. It is good to know so you don't get ripped off by your travel agent.
Of course, there are ways to avoid it. The most obvious way is to skip booking through the travel agents and contact the drivers directly. The drivers usually have their own contacts with an agency to settle all the permit application. My personal suggestion is to find Tibetan drivers because they usually have good prices and offer good value for money services. This could be because the Tibetan community is marginalized in Leh itself as they try to survive without being a citizen (Tibetans in India are considered refugees).
Permits
Since April 2017, the government authorities had made it compulsory to obtain permits for both domestic and international travellers visiting some protected parts of Ladakh. There are 2 types of permits which are the same permits just for different nationalities. The Innerline permits (ILP) are solely for Indian nationals while the Ladakh Protect Area Permits (PAP) for foreigners.
Innerline Permit
Ladakh Inner Line Permits (ILP) are required for Indian Tourists / Nationals (starting again in 2017)
These permits are required in Ladakh in order to visit the inner line places like Nubra Valley, Khardung La, Pangong Tso, Tso Moriri, Dah, Hanu Villages, Man, Merak, Nyoma, Loma Bend, Turtuk, Tyakshi, Chusul, Hanle, Digger La, Tangyar.
Inner Line Permits will be available online from the official website www.lahdclehpermit.in. All domestic tourists should go through the website to obtain the inner line permits.
These permits are not required for traveling on Manali – Leh Highway or Srinagar – Leh Highway or Zanskar Valley.
These permits are not required for residents of J&K state and children below the age of 12 years. They can visit the protected area region in Ladakh by showing/carrying a valid Photo Id proof.
If you are planning to apply for these permits in person, then you can apply them at TIC Office, Opposite J&K Bank, Main Market, Leh. The office is open all working days (Monday to Friday) 09:00 AM to 07.00 PM.
Ladakh Protect Area permits (PAP)
PAP is the same as the Inner Line permit, but for foreigners.
You can apply them online on http://mha1.nic.in/papvt/Index.aspx#.
Cost is INR 400 (Environment fee) and INR 20 per day per person (PAP)
These permits are required in Ladakh in order to visit the inner line places like Nubra Valley, Khardung La, Pangong Tso, Tso Moriri, Dah, Hanu Villages, Man, Merak, Nyoma, Loma Bend, Turtuk, Tyakshi, Chusul, Hanle, Digger La, Tangyar.
Permits require a minimum of 2 people. It can be issued through a registered travel agent to combine the name with a different group even if you are not traveling with them. The minimum of 2 person rule is only for the application process.
The PAP permit last for 7 days and is a multi-entry permit.
The PAP permit states the entry and exit point, as well as the area visiting. Therefore, depending on which area, you might need multiple permits. To makes things simple, even if you already arrange a driver, you can find a travel agent to settle the permits for you.
For more information, see here : http://www.lahdclehpermit.in/faq.pdf
*Tip : I would highly recommend just finding a travel agent to settle the permit for you. They usually do not charge that much on doing the permit.
Leh
It is a small town with most of the notable sights easily accessible by foot centered around the main bazaar. Leh has an "Old Town" which is a historic Tibetan-Himalayan settlement. It is often known as moon-land due to the inhospitable terrain surrounding it. The "Old Town" with its maze of alleyways and a mixture of stone, mud and timber houses provides insight into the high mountain cultures which had adapted to their severe environments for centuries.
To get around Leh, take the main Bazaar as the central point. The old town is a compact area of mud brick houses and narrow lanes directly to the east of Main Bazaar. Changspa is the agricultural "suburb" northwest of the center, with many guesthouses. Below is a map of Leh with all the points of interest marked out.
A good 1 -2 day itinerary would be to visit Leh Palace -> Tsemo Gompa -> Bazaars -> Shanti Stupa. The war museum (Hall of Fame) and Zorawar fort are slightly out of the way. If you are not so interested in religious sites, skip certain gompas or the mosque. For me, I only went to Leh Palace and Tsemo Gompa for the view and the walk up which was fantastic.
Opening Times : Daily, 7.00 AM to 4.00 PM
Entry fees: INR 15 per person (Indian citizens), INR 200 (Foreigners)
Leh palace is one of the more noticeable buildings in Leh as there are signs directly the flocks of tourists who visit. It is the former palace of the previous King of Ladakh and was built in the 17th century. However, most of the palace is still derelict, even though it is supposedly undergoing renovation and being maintained by the 'Archaeological Survey of India' (ASI). The nice thing about the Leh palace is the walk up which should aid in acclimatization, as well as the view from the rooftop of the palace which provides amazing views of the Ladaki range of mountains such as Stok Kangri surrounding the entire town. You can easily combine this with Tsemo Gompa, or see a similar view there too if you wish to save on the entrance fee to Leh Palace (like what I did).
Opening Times : All the time
Entry fees: Free
This is easily accessed from Leh Palace. Just spot it from Leh palace and follow the steep uphill path. It takes around 15-30 minutes from Leh Palace, depending on your speed. At the top, there is an outcropping with prayer flags which provides a fantastic panoramic view of Leh and its surroundings. It is a good point to take note of where the other sights are.
A detailed description of what you can see can be found here : https://www.gigaplaces.com/en/article-ascent-to-namgyal-tsemo-gompa/
https://www.gigaplaces.com/en/article-hike-to-north-oasis-of-leh/
Opening Times : Daily, 5.00 AM to 9.00 PM
Entry fees: Free
It is nice to visit Shanti Stupa during sunrise or sunset, depending on where you stay. Most people visit during sunset as it is slightly off the centre. Situated at a height of 3,609m the stupa is located 5 kilometres (3.1 mi) from Leh – the former capital of Ladakh – on a steep hill facing the Leh Palace.[3] The stupa can be reached by a drivable road or on foot using a series of 500 steep steps to the hilltop.There is an extremely detailed write-up on how to get to Shanti Stupa. You can read it here : https://www.gigaplaces.com/en/article-walk-to-shanti-stupa/.
Additionally, you could walk on further for extra vantage points. Follow the instructions here : https://www.gigaplaces.com/en/article-secret-mountain-above-leh/
This lies slightly above Shanti Stupa. It is an 11th-century mud-brick stupa with a base diameter of 55m and the largest Stupa in Ladakh . It has an extreme unique architecural style, being a mix of styles between and Indian Stupa and a Tibetan Lhakhang (shrine).
Opening Times : Daily, 5.00 AM to 9.00 PM
Entry fees: Free
If you are interested in Mosque, you could visit the central mosque in Leh. It is near the main bazaar so it makes an easy short trip.
Opening Times : 7:00 am to 10:00 am and 5:00 pm to 7:00 pm
Entry fees: INR 30
Sankar Gompa lies around 3+km out from the center of Leh and is the sister monastery to Spituk monastery. The opening timings are uncertain because it depends on whether the monks are there. Visiting during early mornings and evenings give you the best chance. It lies on a hill top which gives you another viewpoint of Leh and the surrounding mountains. Do it if you wish to go on a long walk and away from the tourists.
Opening Times : 9am-1pm and 2-7pm
Entry fees: INR 25 per person (Indian citizens), INR 50 (Foreigners), INR 50 (additional for photography)
Located extremely close to the airport, this site is slightly out of the way. It would be a good place to visit if you are interested in war history and coming into Leh by air. For me, it was quite out of the way so that is quite a deterrent to getting there.
To know more in details about what is in the museum, you can check out : http://www.ghumakkar.com/majestic-ladakh-hall-of-fame-and-the-last-post/
Opening Times :
Summer 10:00 a.m. – 1:00 p.m. and 4 p.m. – 7 p.m.
Winter: 10:00 a.m. – 1:00 p.m. and 3 p.m. – 5 p.m.
Entry fees: Free
This is slightly further from the other sights. It is still walkable, similar distance to Shanti Stupa except in the opposite direction. It takes around 30-45 mins by walking there. Visit it if you are free or bored, but I am a person of heights so I rather visit the other stupas.
Side Trips From Leh
As Leh is surrounded by many mountain ranges, there are numerous choices for side trips one can take from Leh. For a full map of Ladakh, please refer to this map by by Zheladakh.
I will try my best to list the popular side trips from Leh. Most of them are religious sites, such as Gompas or Stupas.
Opening Times : 8:00 am to 1.00pm and 2:00 pm to 6:00 pm
Entry fees: INR 30
It is located extremely close to the airport. It containers several pre-historic shrines, frescoes, idols and other religious scriptures and is home to 100+ monks. Situated at 3,307 metres, it has fine views of the Indus valley and a nice calming presence to just sit around and chill after your trek.
Opening Times : Daily, 7:00 am to 7.00pm
Entry fees: INR 30
Thiksey Gompa: 17 km from Leh, is excellent place to visit, well maintained, active and interesting Geluk (the sect headed by the Dali Lama) Monastery. The two storey tall Matreya statue is stunning, and features on numerous photographs seen around the world in all sorts of contexts.
Thiksey Monastery is located on top of a hill in Thiksey village. It is famous for being the largest gompa in central Ladakh as well as its close resemblance to the the Potala Palace in Lhasa, Tibet. Being one of the most common places to visit outside of Leh, most tourists combine this with Shey Monastery on the way to Panggong Lake.
It consist of a twelve-story complex which houses many Buddhist-related items. There are many monks wandering around and some people visit to meditate or stay with the monks. There are rooms available overnight and it cost around USD$25 per room with food included. I am not a religious person but I can say that it will be useful to visit for those interested in Buddhism. The monastery sits at 3,600m, giving a view of the surrounding Indus valley and makes it a nice place to just sit and chill.
Opening Times : Daily, 8am-1pm & 2-6pm
Entry fees: INR 30
Shey Gompa: Shey was the capital of Ladakh until Leh took its place. The Kings of the time paid for the construction of numerous chortens (Stupas), and Mani walls that now crowd the area around the road. There is a Gompa, now under restoration, with a 12m high Sakyamuni Buddha statue.This is usually done on the way to Panggong lake, together with Thikse Monastery. However, it is known to be quite old and dilapidated. If you have visited Hemis or Thiksey before this, you might want to give this a miss.
Opening Times : Daily, 7:00 am to 7.00pm
Entry fees: INR 100
Hemis Monastery is the largest and some say, the richest Buddhist monastery in Ladakh. It is also one of the most visited monasteries in Ladakh because of the annual colourful festival called Hemis Tsechu held during the months of June-July.
This 2-day festival is celebrated on the 10 day of the Tibetan lunar month to honour the birth of Padmasambhava, the founder of Tibetan Buddhism. During the 2-day festival, the locals get into the act by dressing up in vibrant traditional clothes.
The Monastery is also known to have a rich collection of ancient fragments made of gold, silver and copper, scared Budddhist Thangkas, various other artifacts. For more information on how the inside looks like, you can take a look at this blog : http://www.pathismygoal.com/hemis-monastery-the-biggest-monastery-in-ladakh/
Opening Times : Daily, 10am-1pm & 2pm-6pm
Entry fees: Free
Alchi Monastery sits in Alchi Village which is part of the three villages (all in lower Ladakh region) which constitute the 'Alchi group of monuments'. Alchi Monastic complex is the most famous of them all, but the other two villages adjoining Alchi are the Mangyu and Sumda Chun.
The major buildings within Alchi are Dukhang or Assembly Hall, Main Temple (gTsug-lag-khang), Manjushri Temple ('Jam-dpal lHa-khang), and Chortens. Additionally, the temple also has two other important temples -'Lotsabha Lakhang' and 'Lakhang Soma'. All of them are adorned with minutely carved paintings, which are believed to be the oldest surviving in Ladakh. There are also huge statues of the Buddha, elaborate wood carvings and artwork which makes this an attractive place to visit.
To visit the monastery, one is advised to visit between May to September and avoid winter as the road to Alchi Monastery will most likely be closed due to snow.
Opening Times : Daily, 7:00 am to 7.00pm
Entry fees: INR 100
The monastery is situated on top of the hill towering over the ruins of the ancient town and is noted for its Buddha statue and murals. If you ask me, it just looks pretty from far but not really worth the effort to get to unless you wish to conquer every monastery out there.
Magnetic hill
The magnetic hill is a small stretch of road located about 30 kms from Leh towards Kargil. What makes it worth visiting is that the hill looks like it is going uphill but if you switch off your engine and put the vehicle in neutral mode, it will continue moving, therefore the name magnetic hill.
There are a few theories on why that is so. The The optical illusion theory is the most plausible. As it is quite a gimmicky visit for me, it is only worth visiting if you are coming from Srinagar as it is part of the road from Kargil – Leh. You can visit it as part of the route to Hemis or Alchi.
For more, you can read here : http://traveltriangle.com/blog/magnetic-hill-in-ladakh/
From far, this temple or gurdwara looks like an unremarkable roadside temple carved randomly onto the land. It is on the way from the Kargil – Leh road, which means that you can drop by on the way if you are coming from Srinagar or visiting Magnetic hill. Unless you are religious, I would see very little reason to really visit this.
Stok Village is the fastest way to start your Stok Kangri trek, as well as the ending point. Having said that, it is one of the villages closest to Leh with a few interesting sights. It houses the old King of Ladakh's palace and has a monastery there too.
Stok Monastery
Opening Times : Daily, 6am-1pm & 1.30pm-6pm
Entry fees: INR 30
Stok Palace
Opening Times : Monday – Friday: 8.00 AM – 7.00 PM , Saturday: 8.00 AM – 7.00 PM , Sunday: 8.00 AM – 7.00 PM , Public Holidays: 8.00 AM – 7.00 PM
Entry fees: INR 70
Another Gompa/monastery, a smaller less renowned one. It is on the way to Panggong Tso so you could drop by to visit if you are not tired of Gompas already by now.
Sorry, I got slightly tired and lazy of writing about gompas. My vocabulary ran out of words to describe them. To read more, click on this link : https://kevinstandagephotography.wordpress.com/2015/10/29/thag-thok-tak-tok-thak-thok-gompa-ladakh/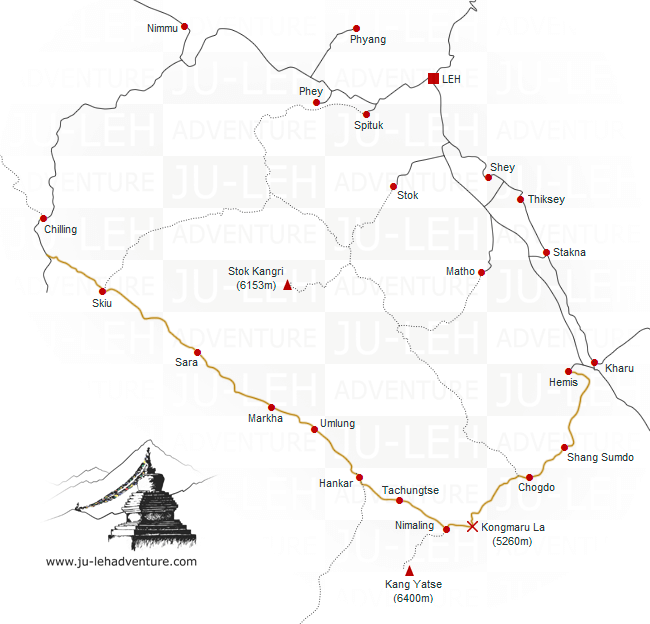 This is one of the most popular treks, if not the most popular one in Ladakh. It is easily accessible from Leh and can range from 2-10 days. You could even combine this trek with Stok Kangri or Kang Yatze summit. To know how to plan your trip there, do read up on my post on how to plan your trip there!
Markha Valley trek is also known for being a 'tea house trek' you can easily get accommodation in the villages instead of needing to camp. There is an an outstanding view of Ladakh and Zanskar ranges with Kang Yatze and Stok Kangri peaks in the distance. There are also 2 high passes, Gandala L and Kongmaru La. On top of that, there is the added excitement of wading waist deep and bounded by rope crossing the Markha River.
This valley runs parallel to the Himalayan range and is renowned for having beautiful, wild and barren landscapes. Some people call them"Little Tibet" due to the dramatic landscapes.
The Nubra Valley lies at the base of the Karakorum Range and is part of the old silk road. Within the valley, most people go there for trekking or the Hundar Valley Sand Dunes. There are activities such as hiring campels or just driving through. Khardung La, which was highlighted above also lies on the road towards Nubra Valley.
An inner line permit is required for trips to Nubra Valley. Most of the itineraries range from 1-4 days. They consist of trips to Diskit Monastery, Tur-Tuk village and Khardung La.
Here are some standard itineraries.
1 Day – Leh-Khardung La – Diskit-Hundar Sand dunes-Leh
2 Days – Leh-Khardung La-Sumur-Panamik-Hundar Valley(night stay in camps)-Diskit-Leh
3 Days – Leh-Khardung La-Panamik-Sumur(night stay in camps)-Hundar Valley-Turtuk(night stay in home-stays)-Diskit-Leh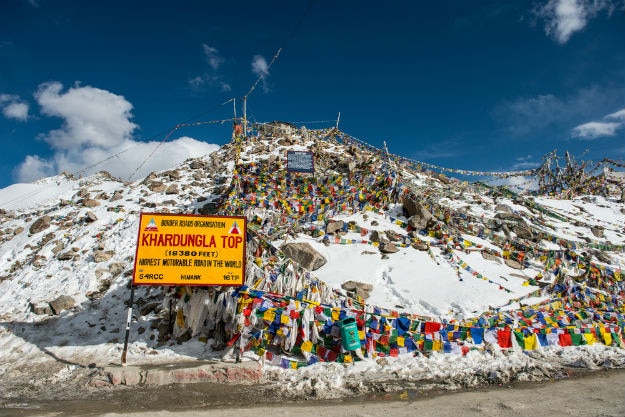 It is commonly known as the "highest motorable road in the world", but that has been contested and debunked over the years. Having said that, it is indeed very high at 5,000m+ which is almost guaranteed to give you slight altitude sickness if you ascent quickly by vehicle. Khardung La lies north of Leh, which means you will pass it enroute to Nubra or Shyok valley treks. There is a high chance of it snowing and being really cold and foggy, so be prepared with proper clothing! An innerline permit is also required to get to Khardung La, please read more below on the permits.
Diskit Monastery
The main and unique attraction of Diskit monastery is a gigantic statue of Lord Buddha on the top of it. This popular monastery is located in the Nubra valley of Ladakh. This famous tourist attraction is considered as one of the oldest as well as the largest Buddhist center in Ladakh.
Tur-Tuk Village
Turtuk village is north-most and one of the more remote villages in India. It is also the last Indian outpost before Pakistan in Ladakh, situated in a military dominated and sensitive area just ten kilometers before the line of control between India and Pakistan. It also serves as the gateway to the highly contested area of the Siachen Glacier, where the infamous peaks of Mount K2 can be seen from the village.
Interestingly, the village is predominantly Muslim. It was only accessible to tourists in 2010, and it takes around 8-9 hours from Leh.
Zanskar Valley
Zanskar is located around 105 km from Leh and is popular for adventure sports and trekking. It is located in Kargil, with Padum as its administrative centre. Zanskar is known as one of the most isolated regions and is famous for its high mountains and landscapes.
One can visit Zanskar from Kargil if you are coming from Srinagar, or from Leh – Padum.
Some famous treks are Lamayuru to Darcha, Lamayuru – Padum trek. Majority of the people in Zanskar are Tibetan Buddhist.
These website has quite a detailed list of information on trekking the Zanskar Valley : http://traveltriangle.com/blog/zanskar-valley-trek/. Another one of my favorite websites is Devilonwheels which covers some information on it too : http://devilonwheels.com/plan-journey-zanskar-valley/
Pangong Tso
Pangong Tso is by default the most popular destination from Leh. At 4350 meters, it is a high altitude lake with really clear blue waters while surrounded by tall mountain peaks. One cool fact is that the Lake lies on the India – China boundary, with only one fourth of the lake being in India. It was also made famous by the Indian movie "3 Idiots" (if you haven't watched it, it is a really good film!), therefore expect to see a lot of local Indian tourists.
It takes around 5-6 hours despite it being only 150km away from Leh. The road to this lake passes through the Chang-la pass (5425m), supposedly the world's 3rd highest motorable road and is extremely bumpy and pretty harrowing at times. Needless to say, like all the roads from Leh, a 4WD is necessary.
Although some do it as a day trip, it is crazy to travel 12 hours by car for a 1 hour experience at the lake. Most people stay 1-2 nights there, doing this after their treks in Leh. A permit is needed to get to the lake. Therefore, it would be good to do the permit on the day you reach back from the trek. This way, you can leave immediately in the morning on the next day, at 4am so you would have a lot more time in Pangong Lake.
There are quite a few lodges to stay at the lake area. Staying nearer to the lake is usually more expensive and their version of glamping. My suggestion is to stay slightly further from the lake as it is cheaper and usually have better facilities.
Tso Moriri Lake
Tso Moriri is another highly popular lake amongst tourists visiting from Leh. It is known as "Mountain Lake" due to its altitude of 4,522 m and is a lot less crowded than Pangong Tso. Similar to Pangong Tso, it is surrounded by barren hills and high snow-covered mountains. The water is also crystal clear which makes it a beautiful place to relax and for photography.
Some visit it on the road from Manali- Leh because Tso Moriri Lake is situated in the middle of the elevated district of Rupshu which lies south-east of Manali-Leh road. From Leh, it is around 240km and requires around 7-8 hours. Therefore, if you fly in to Leh, you might consider doing it as part of your trip back to Delhi.
There are two main routes to Tso Moriri from Leh:
Leh- Upshi- Debring- Puga- Tso Moriri
Leh – Upshi – Chumathang – Mahe – Puga – Tso Moriri
Combination Lakes
Another option for some who love lakes is to combine both lakes to form a circuit road trip from Leh. For more information, you can see this website: Vargiskhan for extra details.
---
For more links, you can read up on :
https://www.holidify.com/blog/things-to-do-in-leh-ladakh/
http://traveltwosome.com/10-eating-places-in-leh
https://shoesonloose.com/7-restaurant-in-leh-ladakh-you-cannot-miss/
https://www.oyorooms.com/blog/10-foods-to-definitely-try-in-leh-ladakh/
http://www.reachladakh.com/battling-water-scarcity-in-leh/2855.html